Hello, hello! Soooo....I've been reading A LOT lately, and I've been trying to figure out what to review next...It seems like I've started a bad habit of writing half a review and then picking up a new book, which is very bass-ackward of me, so I shall begin to rectify it immediately!
To begin with, when I hear the words "
Lioness
," "
Rampant
," and "
Killer Unicorns
," my first thought is of
Tamora Pierce
...Or at least it
used
to be. Tamora Pierce is best known for her first series,
The Lioness Rampant
, which follows a young girl on her quest to become a knight. The "
Killer Unicorns
" I'm thinking of are actually evil pegasuses with bat wings and fangs, called "
hurrocks
," and only illicit a minor mention in her following series,
The Immortals
. But it still made me think of
killer unicorns
. Before that, I'd never imagined a dark side to mythical beasts like the pegasus or the unicorn.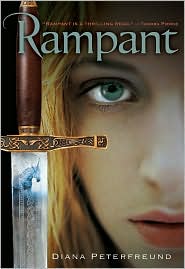 But if you're looking for a bad unicorn story,
Rampant
is definitely your book. Um, wait, that didn't come out right. What I
meant
to say was if you're looking for a kick-ass story about unicorns gone
bad
...You've come to the right place.
Diana Peterfreund
has created a hidden world within in our own world. Astrid is your normal, average girl, except with generations of unicorn-hunting blood coursing through her veins. Of course, Astrid just rolls her eyes at this, because, like there are
real
unicorns out there??? But when a unicorn that looks more like a goat than anything from
My Little Ponies
, gores Astrid's boyfriend and almost kills him, Astrid begins to believe that there might actually be some truth to all the stories her mother told her as she was growing up. Soon unicorn sightings are happening all over the place and Astrid is sent to an exclusive Unicorn-Hunting-Convent-Training Camp for girls...In Italy.
Astrid finds her world tipped-upside down, inducted into the
Order of the Lioness
, living in a convent and trying to balance her priorities; boys and unicorn hunting. Only certain people, with certain bloodlines, and certain lack-of-experience with boys are eligible to be unicorn hunters. Astrid is at the top of the game
—
But does she even want to play this game???
This was definitely one my favorite new reads(I read it in one sitting)(sleep is moderately overrated), and I am eagerly awaiting its sequel,
Ascendant
. Why are you so far away September?
Why
???? Diana Peterfreund is definitely on my watch list!!! My watch, stalk-obsessively, find out any information possible at all costs, list.
(\__/)