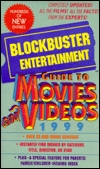 The Blockbuster Entertainment Guide to Movies and Videos 1999
is THE BEST movie reference guide I've ever had. Unfortunately, I haven't been able to find an updated version in the last ten years, so it isn't as up-to-date as it used to be.
I have tried some other guides, but this is my favorite. I like the comprehensive set up of this guide. It's designed like an encyclopedia and has "
over 23,000
" entries, with small blurbs for each movie. It also includes director and actor filmographies indexes in the back of the book, and a special section for children and family recommendations.
I've read it cover-to-cover twice, although I do debate some of the ratings, most of the reviews are fair and accurate. Every once in a while I ran across reviews where it seemed like the reviewer had a particularly long day, along with at least one reviewer with a sense of humor, and a stockpile of bland and questionable adjectives such as: simple, uninvolved, bucolic, subtle, uneven, predictable, charming, painless, insignificant, mindless, entertaining, sprawling, masterpiece, breezy, overdone, and descriptions of attractive and likable casts, and categories labeled character study, soap opera, and comic drama.
I plan to save some of these adjectives for my own future reviews. ;)
(\__/)