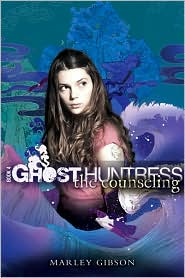 Another
AMAZING
find from the
Books, Boys, Buzz...
girls!!!!!!!! The Buzz girls will be having an extended release party all week to celebrate
Marley Gibson's
newest book:
Ghost Huntress: The Counseling
(book 4 of the
Ghost Huntress
series)!!!!!! So make sure to stop by there for fabulous prizes!!!!
A *SIGNED* copy of THE COUNSELING
A *HANDMADE* Ghost Hunting blanket, perfect for spooky nights at home alone ;)
(How cool is this!??!?!?!?) A rose quartz pendulum, like Kendal uses for ghost hunting!!!
A copy of Marley's book, The Other Side: A Teen's Guide to Ghosthunting and the Paranormal, co-written by Patrick Burns and Dave Schrader
All you have to do to enter any of these contests is to visit the sites and comment in their comment sections, but you can get extra points for Marley's contest by helping her spread the word--as she says, the more people reading the series, the longer the series can continue!!!!! Marley's contest ends September 15!!!
I haven't read these yet, but they look super-good!!!! I especially want to read the newest one, The Counseling, because the main character, Kendall, gets to go to a camp in the Sierras, and I used to work at a camp outside of Yosemite and I've been feeling homesick for it! I can't bear to read the books out of order, so I'll have to find a way to get the whole series ASAP!!!! ;)
Are any of you Ghost Huntress reader??? I'd LOVE to hear more about the books and what you think of the series!!!!!!
Has anyone ghost-hunted??? I've been to the
Winchester Mystery House
in San Jose a couple of times, the closest I've ever been to a real haunted house--VERY spooky!!!!
(\__/)