Sweet!!!!!! I had so much fun doing last week's
In My Mailbox
that I totally wanted to do it again. However, this week was a very close call, because my mailbox was fairly empty this week. And by that, I mean completely empty. Although I did win a couple things...until they're IN my mailbox, I'm not putting them
IMM
. So I was feeling pretty sad a couple seconds ago, until I remembered my recent trip to the library. I must have majorly spaced out, because I have the growing pile of
Already Been Read
books next to my left elbow, and my (temporarily) shrinking
TBR
pile next to my right elbow. And I must add that I've been carrying these books EVERYWHERE with me all week, my bed, my desk, the couch, the car,
EVERYWHERE
. It wasn't until I was about to pick up my current TBR and be sad about not having anything for my mailbox that it all kind of clicked, and here I am...Soooo, what have I been so excited about this week that I absolutely won't put down???
Well, this week's trip to the library was actually inspired by a surprise find in last week's IMM. Growing up, I was a huge fan of John D. Fitzgerald's series,
The Great Brain
. And last week after acquiring
Mamma's Boarding House
, an adult book of his, it made me nostalgic for the books I'd read and loved as a child. A quick search at the local library website, confirmed their availability, and I rushed over to grab them.
Outside of a bookstore or a library I have absolutely no geographical talents. Inside a bookstore or a library I am a homing pigeon. While I'm new to this library, and hadn't been in the middle-grade section in a while, it was if I had always been there, as if they had been waiting for me.
On the plus side, there was actually an extra book in the series that I had never read. On the minus side, two out of the eight books in the series were missing. But since I'd already read them, anyway, I just grabbed everything they had: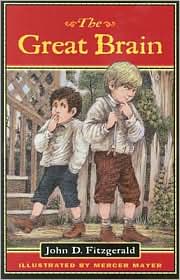 The Great Brain
More Adventures of the Great Brain
The Great Brain at the Academy
The Return of the Great Brain
The Great Brain Does it Again
The Great Brain is Back
by John D. Fitzgerald
And, as long as I was at the library, I also put in a request for
TRON
, which I picked up just this morning.
All in all, a very satisfying week!!!
*
In My Mailbox
is a weekly meme hosted by Kristi over at
The Story Siren*
So head over there if you want to check out what everyone else got, or if you want to find out how to participate!!!
Happy reading everyone!!!! ;)
(\__/)