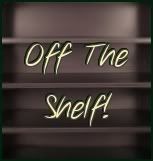 Ok, so I found this super-awesome-amazing challenge that I thought sounded like fun, so I thought I'd give it a try—Bookish Ardour is hosting an Off The Shelf Reading Challenge. It's basically as simple (or difficult) as it sounds—Read the books you already have, but haven't read yet, have been meaning to read, or (in my case) completely forgot about.
I kind of went crazy downloading free e-books when I first got my Nook, so I thought this would be the perfect thing to get me reading all those classics I'd never gotten to but had wanted to read. And while I was at it, I thought I'd got through my (real) bookshelves and see what I still have on the tbr pile. After I got my Nook, I downsized my (real) book collection to one bookcase. And then, after I started winning some contests, I added a TBR bookshelf next to my desk.
So, only 15 books on my TBR shelf. Not too bad. As a challenge level, it only rates =Trying.
Back to my (real) bookshelf. Um, approximately another 65. Like I said, oops.
Out of around 300, that's really not that bad.
Um, well, that's why I'm signing up for the challenge!
Sacrifice (Mortal Path series, book 2), Dakota Banks

Thornspell, Helen Lowe

The Body Finder, Kimberly Derting

Sisters Red, Jackson Pearce

Brave Buffalo Fighter, John D. Fitzgerald

Lyddie, Katherine Patterson

Out of Darkness, Jaime Rush

A Perfect Darkness, Jaime Rush

When Blook Calls, J.K. Beck

Death Most Definite, Trent Jamieson

Return to Paradise, Simone Elkeles

The 8

th

Confession, James Patterson

Jane and the Damned, Janet Mullaney

Frosty: A Raccoon to Remember, Harriet E. Weaver

Up the Wooden Hill, Jill Schaefer

Women's Diaries of the Westward Journey, Lillian Schlissel

You Can't Win, Jack Black

Indiana Jones and the Peril at Delphi, Rob MacGregor

Indiana Jones and the Dance of the Giants, Rob MacGregor

Shattered Love, Richard Chamberlain

Notorious: Life of Ingrid Bergman, Donald Spoto

Holiday for Murder, Agatha Christie

Wonder Woman Mythos (Justice League of America), Carol Lay

Things I Overheard While Talking to Myself, Alan Alda

The Flash: Stop Motion (JLA), Mark Shultz

Ho for California!, Sandra L. Meyers

Alfred Hitchcock Presents: Stories That Scared Even Me

The Sweet Potato Queen's Book of Love, Jill Conner Browne

The Queen Bee of Mimosa Branch, Haywood Smith

Funerals Are Fatal, Agatha Christie

Batman: The Stone King (JLA), Alan Grant

Hitchcock on Hitchcock, Sidney Gottlieb

How Paul Robeson Saved My Life and Other Happy Stories, Carl Reiner

Green Lantern: Hero's Quest (JLA), Dennis O'Neil

Easy to Kill, Agatha Christie

Murder after Hours, Agatha Christie

I Kid You Not, Jack Paar

Death Comes at the End, Agatha Christie

Justice League of America: Exterminators (JLA), Christopher Gold

Call Me Anna, The Autobiography of Patty Duke, Patty Duke and Kenneth Turran

Shameless Exploitation in Pursuit of the Common Good, Paul Newman and A.E. Hotchner

The Dark Half, Stephen King

Nobody's fool, Martin Gottfried

The Bible

Rascal, Sterling North

Move Over Darling, Marvin H. Albert

The Dark is Rising, Susan Cooper

Ghostbusters: The Supernatural Spectacular, Richard Muellar

The Goonies, James Kahn

Back to the Future, George Gipe

Back to the Future: Part II, Craig Shaw Gardner

Indiana Jones and the Raiders of the Lost Ark, Cambell Black

Indiana Jones and the Temple of Doom, James Kahn

Indiana Jones and the Last Crusade, Rob MacGregor

First Knight, Elizabeth Chadwick

Face/Off, Clark Carlton

Die Hard with a Vengence, D. Chiel

Dangerous Minds, LouAnne Johnson

That Darn Cat, The Gordons

Big, B.B. Hiller and Neil W. Hiller

Ever After: A Cinderella Story, Wendy Logia

Lisa and Lottie, Erich Kastner

Mister Roberts, Thomas Heggen

So Dear to My Heart, Sterling North

Anna and the King of Siam, Margaret Landon

All Hands on Deck, Donald R. Morris

4 for Texas, Dan Cushman

All the President's Men, Woodward and Bernstein

In the Line of Fire, Max Allan Collins

The Glass Bottom Boat, Bradford Street

Divorce American Style, Jackson Donahue

Adventures in Babysitting, Foucher

How to Murder Your Wife

Catch Me If You Can, Frank Abignale, Jr. with Stan Redding

On the Beach, Nevil Shute

Lost and Found, Melvin Frank and Jack Rose
Ok. Um, 77. If I'm to read them all, that would put me at the Flying Off challenge level.
So, I definitely do want to get some of these books off my shelf, and I don't want to be overly ambitious, so I think I'm going to start with a happy medium
I think I can handle that! And I figure I can always upgrade later on. ;)
As for my ebooks…turns out they have their own challenge…
(\__/)