Sooooooooooooo… I thought today might be a good time to talk about things I LOVE.
In no particular order…BOOKS.
I am so going crazy with book love right now!
Daisy Whitney's The Mockingbirds. AMAZING. GRIPPING. ON-THE-EDGE-OF-YOUR-SEAT EMOTIONAL TWISTER. I still have feelings and thoughts washing over me about this book. LOVE.
And everything I just said about The Mockingbirds?—These Things Hidden, by Heather Gudenkauf, moved me in a similar gut-twisting way. Was I still on my Mockingbirds high? Maybe. Less LOVE? Definitely not. LOVE.
And then there's my constant Tera Lynn Childs high. Every time I think I could be no happier or excited—She comes back with something else!!! She's one of my I'll-read-anything-she-writes-because-she's-so-awesome, happy-mythy-romantic-fun-adventure authors. While I've been cresting post-Forgive My Fins waves with ill-concealed anticipation of Fins Are Forever, I tried biding my time with a little Eye Candy. Eye Candy is an early, unpublished novel of Tera's that she decided to share with her fans, releasing one new chapter on her blog every Friday. I went from biding my time to COMPLETELY CRAVING Eye Candy. D.E.L.I.C.I.O.U.S. D.E.L.E.C.T.A.B.L.E. and 100% calorie-free!!!! And Tera has chosen TODAY to crush all of our hearts—Yes, she's revealing the ending[s]—GAVIN or ELLIOT. (p.s. you will definitely want to start at the beginning before reading the end; that's how it works, I'm just saying) (p.p.s. Team ELLIOT
—HELLO!?!?!??!)
But I'm talking about the end of Lydia, Gavin, Elliot, Ferraro, Dyl, and the KYs.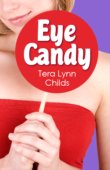 Normally I devour a book as soon as I open it, I have absolutely no will-power, but this lengthy torture serial-release style, well, let's just say it's, SERIAL KILLER! I've never been so on-the-edge-of-my-seat-every-waking-moment thinking about a book like this. It's usually good, and then it's gone.
And I'm afraid to read the end now, because then it will be gone… And when it's gone, I'll have nothing to console me…EXCEPT for tomorrow's cover release of
SWEET VENOM
, Tera's upcoming trilogy about triplet-descendants of Medusa. I AM SO IN ANTICIPATION of this book. To recap:
Eye Candy
,
Fins Are Forever
(in April), and
Sweet Venom
(in October). LOVE. LOVE. LOVE.
And as if dying in excitement over all that isn't enough, Tamora Pierce's Tortall and Other Lands: A Collection of Other Tales is coming out FEBRUARY 22, 2011. Tamora Pierce is one of the few author's I've met in person, and she was SO worth it, I went to another one of her signings, and I'd go again and again. She changed my entire perception of authors—I don't know why I used to think an author might be any less cool or fantastic or amazing than their books, but she is MORE. And if you've read any of her books, you'll know how awesome that is!!!! And if you haven't read any of her books, you NEED to. She's one of my authors that goes everywhere with me. I've been reading and rereading her books since middle school/high school, and trust me, there is only betterness!!!! GIANT LOVE.
Diana Peterfreund. LOVE. Killer unicorns. LOVE. She's the newest-comer to my list of favorites, but I'm keeping her towards the top. First there was Rampant. Now Ascendant. LOVE. LOVE. I SO cannot wait for more. I must find a way to get my hands on everything she's ever written.
---------------------------------------------------------------
But as a booklover of many and varied interests, I like to branch out, so, other things I LOVE? MOVIES.
Right now, I am SO in LOVE with True Grit. It just blew me away in AMAZINGNESS. I want the book by Charles Portis. I want to see the John Wayne version. I want everything about this movie. Did I mention STUNNING. CAPTIVATING. and FREAKING AMAZING. It leaves me with limited powers of speech and great awe. LOVE.
---------------------------------------------------------------
I know I'm a little late to the game, but BUFFY: THE VAMPIRE SLAYER!??!?!?!??!??!?! How did I miss this!?!??!?!?!?! Thanks to Netflix, I am totally rectifying this. Thanks to slow-internet speed, this is taking longer to rectify than absolutely necessary. And Giles!?!??!?!?!? BEST. WATCHER. EVER. E V E R. Season 3, this-close to season 4. I SOOOOOO cannot watch enough!!!!! LOVE.
---------------------------------------------------------------
Yes, Nickelodeon has once again drawn be back into their clutches with their new show, something akin to campy-Harry-Potteresque-charm mixed with Are You Afraid of the Dark. First off, there is something about it that borders on the ridiculous, but it knows it, it plays on it. Secondly it
FREAKING. SUCKS. YOU. IN.
It's like a mystery/paranormal-boarding-school-soap-opera. Is the House alive? Where's Joy? What makes her the chosen one?—Is she REALLY a student, or could she have been drinking some eternal-youth-elixir on the side??? What's the deal with the potion of eternal life? Victor—good or evil? Rufus—definitely evil. Teachers—good or evil? Mara—kind of psycho-Mick-stalker-crazy, a little. Nina. Fabian. Patricia. Amber. Mick. Alfie. Jerome. The magic pendant?
When I saw the previews, I wanted to watch this show, and then laugh at it and never have to watch it again, now I dvr it every day (except last week, when for some reason they SKIPPED. ONE. WHOLE. WEEK.)(WHY!??!!?)(WHY!?!?!?!)(WHY!?!?!?!?) so my sister and I can watch it together—And then we both groan at the end, because after the extremely abrupt cliffhanger ending, it always says "we'll be right back" right before they ask you "what will happen next?" followed by previews of the next episode. And we scream, "YOU LIE, YOU LIE!!!!" because, why do they have to say they'll be right back, when they know that they won't, that people will have to wait until tomorrow, why do they have to lie and taunt us? WHY!??!?!?!?
---------------------------------------------------------------
Soooo…that's me. How 'bout you? Anything you're loving?
Happy Valentine's Day everyone!!!!