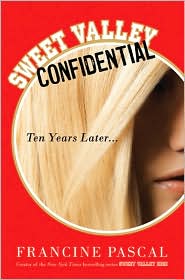 Actually, it probably has been around ten years since the last time I read a Sweet Valley book. If I remember correctly, during one of my summer vacations I picked up a mini-spin-off where Elizabeth goes to London—(pause for goodreads check) yep, Elizabeth, it exists!
Elizabeth Wakefield is not going back to Sweet Valley University. Her sister betrayed her. Her boyfriend broke her heart. And her parents are against her. There's nothing for her to go home to. So where is she supposed to go?
How about London . . . as far away as possible?
But Elizabeth and I eventually went our separate ways…We both went back to college, her to the idyllic Sweet Valley, me to a place one of my English profs once compared to Dante's 10th Circle of Hell (well, visually, anyway…something to do with the massive frozen lake…).
I have to confess, from grade school through high school, I couldn't get enough of Sweet Valley. I grew up with them…Sweet Valley Kids, Sweet Valley Twins, Sweet Valley High, Sweet Valley University…and I don't think I ever quite grew out of them. From the moment I discovered Jessica and Elizabeth, the identical-but-not-so-identical twins from Southern California, I was hooked! They had the fairy-tale-esque life: beaches, sun, shopping, boys. And twin mischief? Check! Elizabeth was the studious, serious-minded twin, who wanted to be a journalist. Jessica was the fun-loving, free-spirit, with an I Love Lucy type penchant for getting into trouble—but nothing the girls couldn't handle together! They solved mysteries, dodged monsters and serial killers, traveled the world, and everything always worked out in the end. HEA. It was the place where stereotypes of jocks and brains and cheerleaders and bad boys were created, then shattered by taking a closer look at someone, and loving them for who they REALLY are… right before falling back into the comfort of their old stereotypes.
I couldn't read them fast enough—I read them like they were vitamins—One a day…until I'd read them ALL.
And then I went to college, moved away, grew up…kinda…
If any part of me thought I'd put my Sweet Valley years behind me, that part was completely mistaken. I guess once a fan club member, always a fan club member (I'm not even kidding), because the second I found out that Sweet Valley Confidential: 10 Years Later was on its way, all those feelings came rushing back like it was yesterday.
Who's married? Who's divorced? Who's gay?
(I only wish I'd had the power of instantaneously downloading books had existed when I was growing up)
So—was it everything I hoped it would be?—Yeah. Drama. Juicy gossip. Evil plotting.—It was all the series and special editions rolled into one!
Reading Sweet Valley Confidential: 10 Years Later was like being transported back to all of my summer vacations and Saturday afternoons combined—spread out, laying on my bed, sunlight on my back, basking in the adventures of Jessica and Elizabeth.
I really felt like the author did a great job of capturing the Sweet Valley world, drawing me back in, as if none of us had ever left—especially the individual voices of the twins. But if I have to pick out one minor, little, nit-picky thing that I wouldn't even mention, except that it was the only thing that pulled me out of the story: like. Now, I am a "like" user. Both in speaking and in writing…sometimes for humor or inflection, and sometimes, just because no matter how hard I try, or look at a sentence, I can't always figure out how to say it the way that I mean, without using "like." Parts of it felt like the author was using "like" just because she thought Jessica should use "like," except it didn't fit right for me, I had to go back and reread the sentence. Not that I don't think Jessica can't use the word "like," but the author did such a good job of separating the voices that maybe Jessica can still be a sunny, bubbly, California girl, without, like, saying "like," like, all the time….Maybe it's just me? Or maybe it's just Jessica?
So, did Elizabeth become a famous writer? Did Jessica be a famous actress? Did Elizabeth and Todd get married?
—
I always wondered what the twins would be like grown up, and I kind of went
back and forth—
Out of the two, Elizabeth seemed most likely to end up in New York, Jessica in LA—And at the same time, I couldn't ever really imagine them leaving Sweet Valley—Why would anyone want to leave Sweet Valley? But if only one of them stayed home, I expected it to be Elizabeth. As for Todd—In high school, he was the only guy for Elizabeth…But in college, he turned into kind of a jerk—It was the first time that I really didn't want to see them together.
I always remember Sweet Valley for its happily-ever-afters—but when we meet the twins, everything is topsy-turvy—Jessica is home in Sweet Valley, and Elizabeth has run away to New York. Elizabeth, the successful one, is now the one struggling with her career and making a living in the big city, while Jessica, the wild one…um…actually has a career?—a believable career?—and is rocking it out of the park?!?!!? When did that happen????
And the most scandalous thing of all???—The twins aren't talking. To. Each. Other.
Or at least Elizabeth isn't talking to Jessica. Jessica is the scandal of Sweet Valley (again)—She betrayed the one person who always had her back—And now Elizabeth is plotting revenge.
Yes, that's right—Elizabeth. Is. Plotting. Revenge.—Bizzarro world—right!?!?!?
It was kind of nice to see Jessica stand on her own two feet without Elizabeth to fall back, and nice to see Elizabeth get angry. One of my favorite things has always been the happily-ever-after, and I wasn't disappointed. Elizabeth and Jessica are definitely growing up…but after this little trip down nostalgia lane, I would say their adventures are far from over…perhaps just beginning…again???
I honestly didn't realize how much I missed this series that was such a huge part of my love of reading while I was growing up—And I know I wouldn't be able to help myself from snapping up another series if it continued!