Are you as über-excited about the release of Tera Lynn Childs Fins Are Forever!?!??!!?!? TOMORROW?!?!!?!?!??!

You should be. Because it is FINTASMIC. And I do not use that word lightly.

*sigh* I dove in and absolutely devoured it! And…speaking of devouring things…. Tera is hosting a delicious new contest to celebrate TOMORROW'S release of Fins Are Forever!!!!
On Lily Sanderson's eighteenth birthday she'll become just a girl—still a mergirl, true, but signing the renunciation will ink Princess Waterlily of Thalassinia out of existence. That leaves plain old Lily living on land, dating the boy she loves, and trying to master this being-human thing once and for all.

Now that Lily and Quince are together, mer bond or not, she's almost content to give up her place in the royal succession of Thalassinia. But just when she thinks she has everything figured out, the waves start to get rough. Lily's father sends a certain whirlpool-stirring cousin to stay with her on land. What did Doe do to get herself exiled from Thalassinia and stuck in terraped form, when everyone knows how much she hates humans? And why why why is she batting her eyelashes at Lily's former crush, Brody?

The seafoam on the raging surf comes when a merboy from Lily's past shows up—Tellin asks Lily for something that clouds her view of the horizon. There's a future with Quince on land, her loyalty to the kingdom in the sea, and Lily tossing on the waves in the middle. Will she find a way to reconcile her love, her duty, and her own dreams?
June 28, 2011 (
TOMORROW!!!!!!!!!!!
)(
WooHoo!!!!
)
Quiz time—two coolest things in the world?
And really, what could be more awesome than mermaid cupcakes????
So, what do you have to do?—Be as creative or as culinary as you like (although, in my sister's case, the two don't always combine into something edible…) ;)
THE ASSIGNMENT Share your best mermaid cupcake creation. Your design doesn't have to be baked in the kitchen, although that might be tastiest! You can draw or collage or sculpt out of clay or use any media you want. Whatever it takes to make a cupcake creation worthy of a mermaid princess.

THE PRIZES The top 10 entries will get a swag pack, with bookmarks, postcards, buttons, and mer mark temporary tattoos. The top 5 entries will also get a Fins book sets (a paperback copy of Forgive My Fins, with great extras in the back, and a hardcover copy of Fins Are Forever).

The easiest way to enter it on Facebook. Just go to Tera's author page, click on the Photo Contest tab and follow the instructions. But if you don't have Facebook, you can email your entry to tlc at teralynnchilds dot com and we will add your entry to contest.

Voting will start on July 3rd, so be sure to check back and vote for your favorite. I'll be picking winners and then announcing them on July 9th (or so).
So, seriously fintabulous—right?!?!?!?!
Well, you better get kraken, eh hm, crackin' because I've already started!
I went down to my local ocean today, where all the mermaids were hangin' out, so that I could stock up on supplies, and I found lots of good stuff!!!
Sea foam
, seaweed, sea cucumbers, seagulls, and some stuff that vaguely resembles green French fries (I've decided that green means they're ripe; yellow is mild, and red is SPICY!) And of course some water straight from the ocean, sure to make my cupcakes both moist, and salty!!!!
Preheat the oven to 350°. Measure; assemble; mix; pour into cupcake pan. Bake for 20 minutes. And voila!
Cupcakes I'm sure any mermaid would enjoy!!!! ;)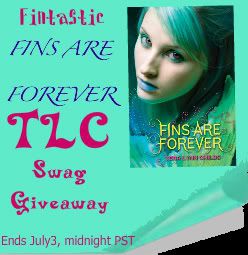 Best of luck to everyone who enters!!!! And don't forget, in honor of tomorrow's Fins Are Forever release, I'm having my own Fintastic Fins Are Forever TLC Giveaway!!!!—where you can win some pretty awesome TLC swag to go with the most splashtastic read of the summer!!!! :D