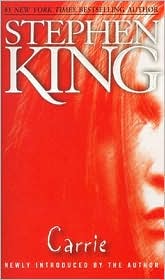 Ok, so I'm guessing you all know the story about the girl who's prom totally sucked, um, what's her name?—Oh, yeah. CARRIE
.
…which incidentally rhymes with scary. Coincidence? Or random? Not sure, but that Stephen King sure is a crafty guy!
I'm honestly not sure if there's anything I can say about Stephen King, or about Carrie that hasn't already been said by a billion other readers…not that I'll let that stop me.
*pause to fully capture thoughts*
So, I am totally feeling the Halloween vibe, and I figured, what better way to get into the Halloween spirit, than by picking up something by Stephen King, who's famous for chilling, thrilling, gruesome, and scare-your-pants-off, terrifying stories??? So Stephen King, it is. Now, I have read Stephen King books before—among my favorites Misery
, Green Mile: The Complete Serial Novel
, and The Shawshank Redemption
. However, I had never read Carrie, the one that started it all, nor seen the movie. I know, #bookbloggerfail. But now seemed like the perfect time to correct that little slight.
I remember years ago, sitting on the plaid, sofa-bed couch in our den, feet tucked under me, ready to open Carrie and see what that Stephen King guy was so popular for. I opened the book (of course)(which does tend to be the easiest way to read a book—So much harder to read when they're closed…) I turned a couple of pages… But I just didn't get into it, and I ended up setting it aside.
Now, umpteen years later, I thought, why not give it another go? Carrie was the first book I'd tried to read by Stephen King, but maybe now that I've read and enjoyed some of his other books, it would do for a second glance. Of course, the copy I'd set aside so long ago, is on a bookshelf somewhere back in WI…and since I don't have any immediate plans for visiting, or anyone visiting me, I thought the quicker route would be to download a library copy for my nook. And yes, that did turn out to be a much more expedient alternative!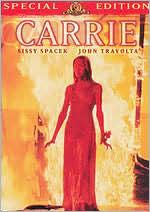 Also, I did a quick tv search and dvr'd me some Carrie
. If I was going to read the book, may as well watch the movie with it… And I figured if I could make it through the movie, that would be a plus in favor of the book. Movie, better than I expected, settled it; I was going to read the book. But since I'm totally a chicken and a procrastinator, and afraid it might be too scary to read in bed, especially after watching the movie…so I just went to bed. And then, before I started reading it, I really ought to check my emails… But there was no more procrastinating when the power went out mid-email. City-wide power-outage and book about scary telekinetic girl bent on wreaking revenge—Yeah, I can take a hint.
fyi: not sure if ereaders are the ideal medium for reading books about characters with telekinetic abilities to smite you. Just sayin'.
***********************************
Maybe I shouldn't have waited so long to read Carrie…but maybe the waiting is what made it so good.
Even after having watched the movie, the book still wasn't what I expected—And of course, it was better (as books usually are). While the movie kept very true to the book, it told the story in a much more straightforward manner. The book, itself, seemed to piece Carrie's story together through articles, books, and eye witness accounts of how the events unfolded, mixed seamlessly with narration from the character's points of view as they were happening.
And here's something other bloggers will understand: After I began blogging, I noticed that this bloggie-narator-voice started appearing in my head whenever I started reading anything, reminding me of little tid-bits and such that I should remember to add to my post. But an odd thing happened while I opened Carrie, apparently my inner narrator was as entranced as I was, as we silently made our way through page after page, completely enrapt.
Verdict: Definitely worth the wait. Carrie has totally inspired to catch up on the many other King books I've neglected.
p.s. Don't be knocking telekinesis. That little black-out didn't end until I was bearing down on the final pages. Coincidence? Or extremely determined tbr list?