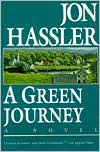 *sigh* Isn't it wonderful when a book absolutely meets and surpasses expectations???
Often as not, I have discovered some of my favorite books and authors through movies. And in the case of Jon Hassler's A Green Journey
, I have Netflix and Angela Lansbury to thank…
It started with an itch. Out of the blue, I started craving some Murder She Wrote
. I can't think of what made me think of it in the first place, but there you go. So I queued it up and started watching. And kept watching… (*so addictive*) Well, when Netflix saw me watching Murder She Wrote, it started offering some recommendations of similar titles that I might enjoy. Mixed in with EVERY. PERRY. MASON. SPECIAL. EVER. was a little Angela Lansbury movie I'd never heard of, A Green Journey.
| | |
| --- | --- |
| "Weary Catholic schoolteacher Agatha McGee leaves Minnesota for the Emerald Isle to find a longtime pen pal who might just be the man of her dreams." | |
I passed it by half-a-dozen times before my curiosity got the better of me and I decided to give it a chance. As much as I've been addicted to Murder She Wrote, I really wasn't expecting much from A Green Journey—But I was in a Hallmark/Lifetime-movie-of-the-week kind of mood, so it was well-suited.
Even during the first few frames, with Miss McGee writing on the blackboard, I was still having my doubts. However, my curiosity was heightened when the title changed. I've seen film trailers that have different working titles before the final version hits the theater. But here, one second Netflix was telling me the movie was called A Green Journey, and then the next second the title The Love She Sought was flashing across the screen. I was about to double-check that I'd clicked the right movie when I saw "based on the novel A Green Journey by Jon Hassler."
I was torn, because honestly, The Love She Sought gave the movie more of a desperate-creepy-sad vibe, the kind of title I would usually mock. Right before skimming over it. But in that split-second decision, it was the trippy-weirdness that kept me from returning to the main menu. And not more than a few moments later, I found myself completely drawn into story.
…And having LOVED every minute of it, I re-watched it again and again, while waiting for my copy of Jon Hassler's book to make its way to my mailbox. Having made its way to said mailbox, I was just a little bit hesitant, hoping that the book would be everything that the movie promised, and afraid that it wouldn't be. That Jon Hassler's written characters might not be as vivid and moving as Angela Lansbury's staunch and vulnerable Agatha McGee; as Denholm Elliot's Irish brogue (*sigh*) or his wry and all-to-human James O'Hannon (*sigh*); or even Robert Prosky's devilish and charming Bishop "Dick" Baker.
Insert extremely satisfied *sigh*
The movie is, in fact, a very faithful adaptation of Jon Hassler's book. But as wonderful and heartwarming as I found the movie, the book is that much richer, layered with romance, faith, and endearing characters that made me fall in love with them as much as they did for each other.
*******************************
Agatha McGee is a brash and unapologetic no-nonsense spinster. She's spent her entire life devoted to her Catholic faith and 46 years teaching her sixth grade students. To the small town of Staggerford, MN, Miss McGee is as much an institution as St. Isadore's, where she teaches, and even the Church, itself. Everyone seems to have put Agatha in a neat little box, expecting her to retire and take up knitting and bingo.
A new bishop is threatening to close St. Isadore's school, bringing unsettling Church reforms into her world, just as Agatha is on the brink of retirement. All her life, Agatha has had her faith in the Catholic Church to keep her company, had its rituals and traditions to guide her. Can her life be coming apart at the seams, just as it seems to have passed her by?
But Agatha has never been one to fade into the background, and while she may be retiring, she's not planning to go quietly. Agatha McGee has a secret. One that no one would ever suspect.
For five years Agatha McGee has had a pen-pal. James O'Hannon is a fellow teacher living in Ireland, a bachelor and a kindred spirit, a man as devout in his own faith as Agatha is in hers. It was their mutual dislike of the new Church reforms that drew them together into correspondence. But it was a shared longing, a shared void of companionship that they began to fill in each other. And when Agatha's retirement gift turns out to be a trip to Ireland, Agatha is ready to abandon a lonely empty future in Minnesota for a future of hope and love in Ireland. When they finally meet, James and Agatha have the both the shyness and intimacy of an old married couple on their first date.
But James has a secret, too. Where the Church and Bishop "Dick" Baker and old age could not break Agatha, James O'Hannon leaves her devastated.
Oddly enough, it is Agatha's nemesis, the bishop, who comes to her rescue—in more ways than one (NO—NOT THAT WAY)—The bishop mends fences between Agatha and James, becoming a dear friend to them both.
*******************************
Even after having watched the movie, I couldn't put the book down. Jon Hassler's writing is witty, thoughtful, insightful, and beyond it all, captivating. A Green Journey is a story as much about people's faith as it was about romance, but it never comes off preachy. Instead, the deeper I delved into the story, the more I found myself reflecting on my own beliefs, choices I've made, and the turns my own life has taken. But I have to admit, I was absolutely swept away by the romance of it. *sigh* James O'Hannon *sigh*
It's a story that more than stands on its own. But that doesn't mean I haven't been ecstatic to discover that Hassler's characters and the world of Staggerford, Minnesota carry over into a dozen more books. Which means its back to waiting by the mailbox, for me! ;)
(\__/) and p.s. I've been so IN LOVE with this book that I've already reread it...and am rereading it again...right now... *sigh* Agatha and James *sigh* which means I'm counting it toward my Read Me Baby, 1 More Time challenge.