Ok, so I know that some of you live in places where it is
November
,
Fall
, or even possibly
Winter
. Summer might be looking like a long way off. But, I wouldn't go planting too many snowmen this year, because I've already seen the first glimpse of
Summer
!!!!
Yes, that's right—Tera LynnChilds IS giving us another SEAquel to get über-FINtastically FINtasmically excited about!!!!!!
Just For Fins,
the third book in Tera Lynn Childs' in magical mermaid exploits of Lily, Quince, and (that trouble-making cousin of hers) Dosinia are scheduled to be released July 3, 2012.
But you and I can *DROOL* over the cover right now!!!
Gorgeous, right!?!?!??!!? I'm all about the shiny. The sparkly. The COLORS. The eyes, the lips, the eyebrows. The PURPLE lettering. I LOVE how everything *POPS*. Honestly, I have to stop and stare at it every few seconds. *SPARKLY*
When Lily Sanderson decided to remain Crown Princess Waterlily of the mermaid kingdom Thalassinia, she knew she couldn't just coast along in the current. But since she's spent the last couple years on land-with gorgeous human Quince by her side-Lily's not sure she has the fins to lead a kingdom. Even her maddeningly pretentious cousin, Dosinia, seems to know more about ruling than she does.
But Lily has to dive in deep to keep her promise to Tellin, her mer-bond in name only, whose kingdom is suffering in the changing ocean climate. From sea animals dying to oil spills and threats to humans, Lily knows this is a seven seas-sized problem. They'll need to make some serious waves to make the mer community aware and joined together to make things right. Even if that mean facing one of the iciest queens in the mer-kingdoms.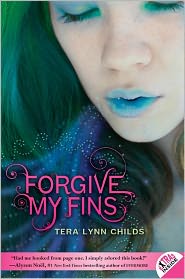 p.s. fun fact [update]: they used the same cover model for Forgive My Fins
.
Well, I know what I'm doing this summer—how about you? ;)